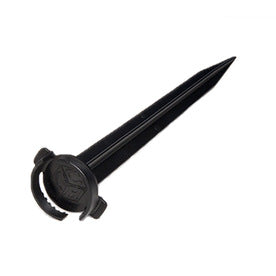 Christmas light Lawn Stake 5 inch 100 Count
Availability:
160 in stock, ready to be shipped
Original price
$29.99
-
Original price
$29.99
Outlining planting beds, driveways and walkways with C-set lights can really take a display to the next level. Commercial Christmas Hardware's new Lawn Speed Stakes are the most rugged, installation-friendly light stakes on the market. The 10 inch stake is ideal for brush, bushes, and lawn areas.
Durable construction - molded of high-strength glass-filled nylon, this stake can be driven into most any kind of soil or landscaping, and will stand up to many seasons of exposure to harsh winter weather.
Easy-twist Assembly - save up to 70% of the time required to assemble lights to other stakes! Simply place any flat-based light in the top socket and rotate the stake to engage the wires into the slots. Raised teeth on the underside of each wire retainer grip the wire firmly.
Innovative Design - the universal head design accepts any type of flat-based light socket, and grips both SPT-1 and SPT-2 wire with equal ease. Handy side tabs give you the leverage you need to properly insert the stake into the ground.
Available in two lengths - 5" and 10" long stakes are available for use in different applications. The 5" style is suitable for installation in lawn areas, while the 10" stake is ideal for many types of ground cover.
Shipping Information

Typically orders placed by 2pm EST are shipped the same day. Orders over $99 will ship for free, all others will ship for a flat rate of $5.99-7.99 depending on the shipping destination.

We ship all orders from our Michigan warehouse either USPS or UPS. More details, including a map that show estimated ship times can be viewed here.
Warranty Information

All holiday lights have a three year limited warranty. Lights are covered at 100% of replacement cost for the first year, 50% of replacement cost for year two and 33% replacement cost for year three. A year is defined as one 90 day lighting season. Lights installed longer than 90 days are void of warranty.

RGB Lighting: All RGB lighting comes with a one year warranty. If you have altered the product in any way, this does void the warranty.